France - the country of Love full of emblematic and romantic places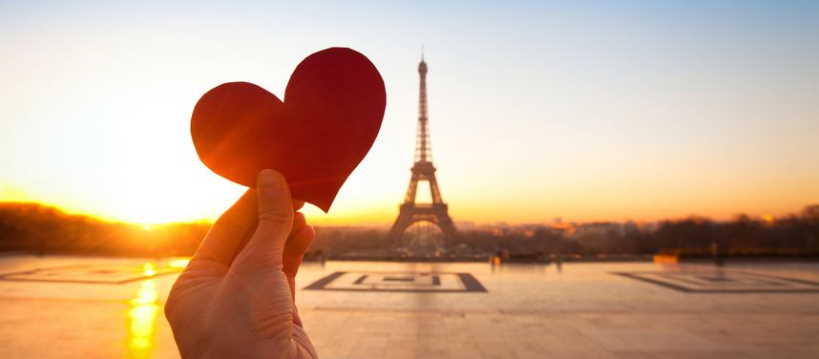 For decades on end, movies and series have centered on the romantic appeal of France. It is no wonder that people equate this country to eternal love that supersedes the ages. If you want to find love or celebrate your love, here are some spots you may want to try.
The Eiffel Tower
Is a French romantic spots' piece even complete if it does not include this landmark? Not quite! You see, as much as this tower may seem like the cliché place to visit in this country of love, it almost falls into the must-do category (scratch that, it does!). You have two options when visiting the tower. You can walk around it and marvel at its beauty and stability (with all that latticework in play). The alternative is to queue (as you smooch your partner) and go up the tower. Fair warning- people with height aversions are better off circling the tower on foot and skipping the journey up. Either way, you will have experienced this landmark in all its glory.
Pont Marie

The Seine is a wonderful spot to share a romantic moment with your partner. It gets even better with the fake tradition that you should smooch your partner the first time you pass under the Pont Marie. While this tradition is a way to make up for the lack of sites up till this point, the thought of countless couples honoring the tradition makes it quite a romantic spot. Plus, given that this stone bridge has stood since the 17th century with its beautiful arches, what's to lose?
Musée de l'Orangerie
This museum is home to works of different artists, most notably Claude Monet. Eight of his paintings lie in this museum's oval rooms, a sign of his devotion to Paris. These were gifts to the city after the First World War, and having a glimpse of them would transport you to more than a century ago. If these works inspire you, how about visiting his gardens in Giverny? You would get to see more of his work, enabling you to enjoy not only the romantic aspect of his craft but also a walk down memory lane.
Other artists' works displayed include Matisse, Picasso, and Renoir.
Latin Quarter
With narrow streets, a history that tugs at the heartstrings and locals squeezed into terraces, this is one of the best places to enjoy a romantic moment with your partner. You can take in the atmosphere around you, feeling surrounded by warmth as you fall deeper in love with your special person. Take some time and explore the many nooks in this space.
Oscar Wilde's Grave
Oscar was a man with a wealth of literary accomplishments and a private life to boot. One of his most famous quotes remains to be 'A kiss may ruin a human life.' While there is much more to this saying than may be apparent at first, people have thrown caution to the wind and smooched again and again. However, on learning Oscar's story, it becomes clear that he was a man in love who made his intentions known the best way he could. As a way to honor his works and memory, couples flock to his grave, where they blow kisses to him as they smooch each other. Interestingly, the cemetery has a kiss wall to ensure that people do not kiss his tomb. Apparently, the kisses were so many that they ruined the stonework. Go lovers!
Pont des Arts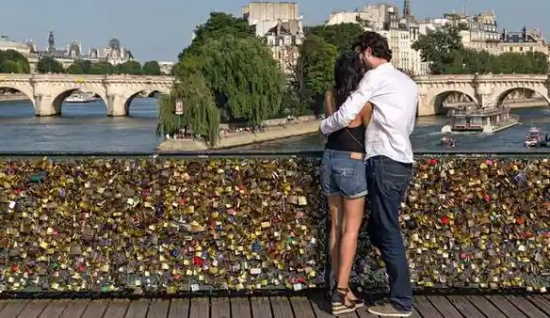 This love lock location was quite a popular spot, with tourists coming in from all over the globe to lock a padlock on the bridge. It was an enthralling moment to imagine that your love was now locked away and the key was nowhere to be found for people to ruin. After a while, the locks became so heavy that the city had to get rid of them. It was either that, or the bridge would have come crashing down. Even though locking your love away may not be possible on this bridge anymore, you can still visit it. Besides, it offers an interesting view of the Seine and would be an ideal spot for picturesque memories.
Pont Neuf
Here is yet another bridge suited for some cozy moments. When Henry III and IV commissioned the bridge, their focus was on trade. Little did they know that centuries later, thousands of couples would seek alcoves on the same where they could embrace each other or take hundreds of pictures. The long stretch also gives you ample opportunity to warm up for any question you may be wanting to ask your partner. Mayhaps even practice how you will phrase it?
Galerie Vivienne
If you'd like to spend the day indoors, but without losing out on romance, this would work. With many cafés lining this covered passage, you can easily choose one and spend the day cuddling with your partner.
Every part of France seems to have something to offer lovers, and you will not be short of ideas on how to express your love. Enjoy!